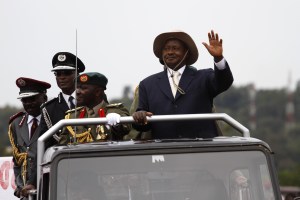 Yoweri Museveni, Uganda's 66-year-old president, is an unlikely rap star.
Quotes from recent Museveni rallies were placed in a song that's a hit in Ugandan nightclubs by a producer from local label Fenon Records. Museveni is running for a fourth term in office, the soundbites used in the song, titled "You Want Another Rap," were taken from an event where the Ugandan president told supporters that he had learned about the African origins of hip hop.
"I can even give you some rap myself now," he says at the start of the song.
Most of Museveni's single features the head of state telling a story in the language Runkyakore. The chorus reverts to English.
"You want another rap?" Museveni asks.
His query is met with cries of "Yes Sevo!" that were added by producers. Sevo is Museveni's nickname.
It's too bad that we don't have more hip hop in American political campaigns. Imagine the possibilities. The midterm elections could have been spiced up with Christine O'Donnell and Rand Paul doing a "You down with Tea Party!" Naughty By Nature tribute video.
Watch video of Museveni's rap debut below.