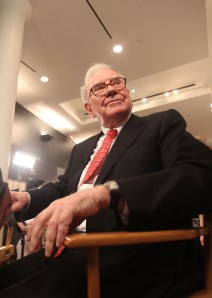 Shortly after The New York Times published what we thought was an ambiguously sarcastic wet kiss to the U.S. government by billionaire investor Warren Buffett, the U.S. government came out and awarded the folksy Nebraskan with the Presidential Medal of Freedom. One good turn deserves another, we suppose.
Bloomberg notes that Buffett was an advisor to President Obama's 2008 presidential campaign and also that the Berkshire Hathaway CEO has pledged to donate much of his fortune to philanthropic endeavors.
Given the timing of the Medal of Freedom award, we're not as convinced as we had been that Buffett was having fun at the government's expense. But wouldn't the joke be that much richer if Buffett's editoriail had been shining the government on? The intrigue continues.
mtaylor [at] observer.com | @mbrookstaylor