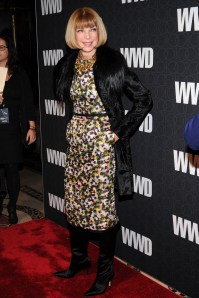 After conducting an extensive study that forced her to scour a year's worth of Getty Images archives, Elizabeth Currid-Halkett, a professor at the University of Southern California, has come to the following conclusion: Anna Wintour is well-connected and intimidating. Well, who knew!
What study actually does reveal, however, is the extent to which the Vogue editor's influence extends through the entire sphere of celebrity. Gatecrasher caught up with the academic, who claims in her new book Starstruck that Wintour is the "ultimate gatekeeper" of celebrity — more so than even the most visible Hollywood actors and actresses.
Currid-Halkett is a bit coy about her scientific method, though. Using the photos, she apparently tallied up the number of appearances a certain player has made in the city's power centers: Soho, the Upper East Side, and (for reasons she only partially justified) Times Square.
And take note, people aspiring to vapid fame — time spent on that other coast is not going to help your case! "L.A. was not a positive influence on your industry prestige," Currid-Halkett said.
But one prominent Los Angeles resident did get some love from the academic. In terms of celebrity culture, Paris Hilton, Currid-Halkett claims, is "like Einstein."