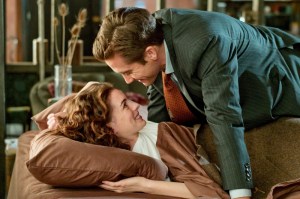 A voluntary suspension of disbelief and a dose of the proverbial pinch of salt are all you need to survive Love and Other Drugs, an alleged "comedy" about a Viagra salesman who falls in love with a girl with Parkinson's disease. That's it for plot. As for romance, you're on your own.
What makes this preposterous yawn (113 minutes of nudity with seizures) bearable is the considerable charm of its two attractive, sexy stars. After a courageous diversity of roles in Brokeback Mountain (gay cowboy) and Brothers (screwup bank robber home from prison who gets too close to his sister-in-law while his brother is in a Gulf War prison camp), Jake Gyllenhaal must have been anxious for a suave change of pace requiring a preppie haircut and a fresh shave. And after critically acclaimed breakthrough roles in The Devil Wears Prada and Rachel Getting Married, the beautiful Anne Hathaway has earned her reputation as a genuine marquee lure. The man in charge is Edward Zwick, a smart and sophisticated filmmaker of great talent whose accomplishments also include writing and directing Legends of the Fall and Once and Again, one of the greatest dramatic series in the history of television, which ABC-TV was stupid enough to cancel at the height of its brilliance. These are good people, and Love and Other Drugs also features the final screen appearance of Jill Clayburgh, totally wasted in the bit part of a frustrated mother who can't get her family to behave at the dinner table. They all deserve better.
Mr. Gyllenhaal plays Jamie, a cocky, self-assured and dedicated loafer with a Ph.D. in seducing women. After getting fired from a dead-end job in an electronics store, he goes to work for Pfizer, selling pharmaceuticals in the Ohio River Valley. One day while hawking Zithromax and Zoloft in a hospital, he comes across Maggie (Ms. Hathaway), a lovely 26-year-old patient with Parkinson's who's on a lot of meds. Mistaking him for another in a long line of doctors, she rejects him instantly, but everyone agrees–when is a girl with a Disease of the Month going to find another hottie this horny? For a while, the movie is content with sweet montages of rolling around naked and eating cornflakes. There's a tremendous amount of talk that signifies nothing but keeps the running length extended. And there is entirely too much unnecessary time devoted to Jamie's obnoxious, obscenely obese brother Josh (played by the obnoxious, obscenely obese Josh Gad). What do you mean, you never heard of him? His credits include the ghastly film Rockers, the accurately titled TV series Bored to Death and the voice of Bandana Dog in Marmaduke. Awful, I know, but wait till you see him masturbating.
It takes 1 hour and 20 minutes before the movie gets serious. (I timed it.) Then Ms. Hathaway gets angry and faces the truth about her illness, and Mr. Gyllenhaal turns contrite and realizes he can't live without her. This all happens in a puddle of tears after they both attend a Parkinson's Foundation convention, but by that time it's too late. The movie has already collapsed into a lame series of Viagra jokes about male enhancement that nobody would want to watch even in a Saturday morning infomercial on cable. To be fair, the cuddly stars look just fine in their birthday suits, displaying no shyness at all. (Showing genuine chemistry in the acting department proves to be a good deal more difficult.) You can't fault the theme that life's darkest moments brighten when two people need each other, but there's no drug strong enough to get me through another movie like Love and Other Drugs.
rreed@observer.com
LOVE AND OTHER DRUGS
Running time 113 minutes
Written by Charles Randolph, Edward Zwick, and Marshall Herskovitz
Directed by Edward Zwick
Starring Jake Gyllenhaal, Anne Hathaway

2/4