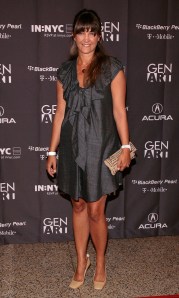 Vanessa von Bismarck's two-phase conquest of 349 West 17th Street takes a cue from her great-great grandfather, Otto von Bismarck, the Prussian statesman responsible for the unification of independent German states into a single empire–a strategy similar to that of combining rental units into a single family home.
The red-brick brownstone is a five-story Greek Revival-style walk-up between Eighth and Ninth avenues. The building, currently configured with a ground-floor owner's duplex that includes a parlor and a garden and three full-floor, market-rate apartments above, was recently purchased for $3.5 million by Countess von Bismarck from the estate of Wendell L. Frelander, a lieutenant commander in the Navy. Ms. von Bismarck, who spearheads the top fashion PR firm Bismarck Phillips Communications and Media, told The Observer that her current plan is to renovate the bottom three floors for herself, her husband, Maximilian Weiner, and their toddler son, Lazlo, while continuing to rent out the top two units.
"We don't have a very big family for now," she said Tuesday. "The plan is to do it in two phases. We're currently talking to architects and contractors."
In June 2009, Page Six ran an item about Ms. von Bismarck's unfortunate Con Edison fiasco at her Soho apartment building. According to the rag, she emailed all her contacts, pleading, "We need two to three bedrooms and two bathrooms on the Upper East Side ASAP. Con Ed shut down the gas in our building and it is getting kind of unbearable." And though she later admitted, "It's amazing how quickly you get used to cold showers," it is unclear how the daughter of Prince and Princess von Bismarck survived the cold spell.
Chelsea may not be the Upper East Side, but Ms. von Bismarck says she is crazy about the new neighborhood. "I think the area is fantastic! We are across from the Maritime and they are making a new retail space–it's like a sculpture to look at."
The townhouse was listed with Stribling's Jeffrey Ryan, who declined to comment; Ms. von Bismarck was represented by Douglas Elliman's Leonard Steinberg. "I'm European, so I've always lived in houses," the countess added. "It's really nice to have a home home."
cmalle@observer.com