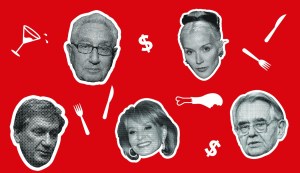 I don't really care about politics. So boring. What I care about is causing a stir and creating a place for people to let their hair down and have a good time, and for that this week I have the Republicans to thank.
The Republicans have always been sidelined in this city, but they came back this month with a swagger. They're out and about and frisky.
The Hudson Institute, the conservative think tank, threw a series of events in the private dining room for much of last week. So did a conservative group from California trolling for donors. Lally Weymouth was back at her corner table. Even Scooter Libby bopped around the place, huddled up with colleagues just outside the front-desk check-in area.
But I'm less about red or blue than I am about red wine or white. And with the Republican return has come a distinctly capitalist rebound in business. I'm noticing more tables for two in the Grill Room (which usually means a deal is under discussion) and bigger bottles of wine. Perfecto!
And people are spending! Last week, a table for four ran up a $14,000 lunch check, thanks in part to a several bottles of Screaming Eagle. Delicious! Right now, the table of Middle Eastern men clinching their deal just sprung for a $1,500 bottle of Bordeaux that probably won't be their first. It's almost Reagan-esque!
I spend a lot of time in the Four Seasons. I'm here beginning at 10 a.m. and don't leave until 8 p.m. or later, depending on what's up that night. But it doesn't feel like work, especially when our guests are going bananas. The other night, I stayed late to greet the Masters of our known Universe, who crammed in for the kick-off party for DealBook, the Andrew Sorkin Web site at The Times that serves as this place's Winchell. Lloyd Blankfein and Jamie Dimon and Arthur Sulzberger Jr. and on and on. Having that event come a day after the Hudson Institute party and the day before a reading by Elie Wiesel upstairs tells you what a juggling act this can be. But I like a circus. I like excitement. (Speaking of which, it's lovely to see Lady Guinness join us for lunch, though I do wonder whatever happened to a certain Middle Eastern royal who had booked for lunch but never showed.)
So where does all of this leave the Democrats? The kind of Democrat we serve here isn't exactly hurting. But they aren't bouncing off the walls, either. Richard Holbrooke was in the restaurant (for a one-on-one with someone I won't name), but he sat down only after spending 45 minutes on the phone in the lobby with a top administration official. These people are having to earn their keep.
But there is something about what goes on here that's above politics, or that at least makes it seem somewhat beside the point. It's more about money and sex and power and what's in that morning's Journal. To have Barbara Walters and Pete Peterson and Henry Kissinger all seated in the same room as a gorgeous woman in a cat suit having her picture taken with cotton candy on her head–that's the point!
And that's what we do here. The reservation lines are open.
Julian Niccolini is the co-owner, and chief ringmaster, of the Four Seasons restaurant in Manhattan.