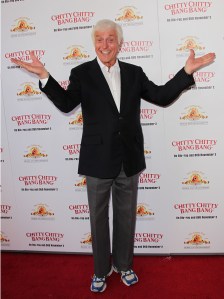 Facing death at the hands of the crushing riptide, Dick Van Dyke found that life has a purpose — or, rather, life has a porpoise.
On "The Late Late Show With Craig Ferguson" last night, the actor famous for flying cars in Chitty Chitty Bang Bang or sweeping chimneys in Mary Poppins told the story of how a pack of the adorable sea creatures came to his rescue. And he insists he's not kidding.
"I went out once and fell asleep on (a surf) board. I did. And I woke up out of sight of land, and I looked around and I started paddling with the swells and I start seeing fins swimming around me, and I thought, 'I'm dead.' They turned out to be porpoises. They pushed me all the way to shore. I'm not kidding."
Van Dyke was on Ferguson's show to promote the Blu-Ray release of Chitty Chitty Bang Bang, so if you didn't have a reason to snap it up earlier, now you do. It's a classic in the flying-car genre — which may be niche, yes, but it has its purpose. Or, rather, it has porpoise. We're not kidding.