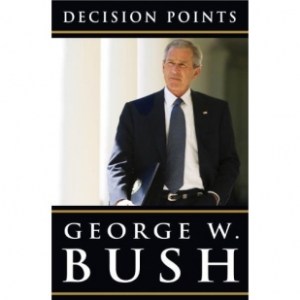 Decision Points, President George W. Bush's hotly anticipated memoir, will hit bookstores tomorrow. If the leaked anecdotes are any indication, this thing's going to be quite the page-turner! But even if it's chock full of juicy tidbits that rival W.'s Kanye-hating, there's no surefire way of telling just how many copies the thing is going to sell.
But what about the past government leaders who have ventured into the world of long-form narrative? The Daily Beast scoured Nielsen BookScan numbers and compiled a list of the politicos who have shilled the most hardbacks and softcovers to bookworms since 2001 (when the company started keeping track of sales).
Who, then, comes out on top? The current head of state, that is! Barack Obama's two titles — Dreams From My Father and The Audacity of Hope — have racked up 270 weeks on the New York Times bestseller list, selling more than four and a half million copies in the process.
No one else on the list comes close to those kind of numbers. Despite having published 23 books — 23 books! — Jimmy Carter has only sold roughly half of what Obama's books have. But keep on cranking them out, Jimmy!
Bill Clinton, Al Franken, and Hillary Clinton round out the top five, with Sarah Palin and Al Gore cracking the top ten.
Joe Biden, however, seems to be slacking — he squeaks onto the list at number 18, having only published one book that stayed on the bestseller list for just one week. Why haven't more people spent a weekend taking in Biden's life and times? Is Delaware really that boring?