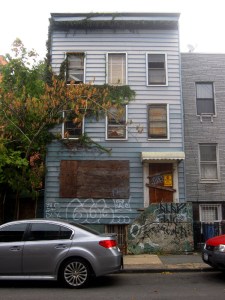 It looks like hipsters aren't the only ones with a thing for North Brooklyn's vinyl-sided rowhouses. As if answering The Observer's prayers, the Daily News has delivered one of its irregular "Eyesore Next Door" features about a horrible house at 270 Eckford Street.
This Greenpoint wonder has been abandoned for seven years, and for more than just the ugly exterior. There are missing taxes and misfiled deeds, all leading to the sort of neglect the city has rarely seen since the '70s. Neighbors complain of a parade of rats streaming out of the house, and local blogger Miss Heather has even given the building a nickname, The Beast, after the 666 grafitti tag adorning the building's facade. The building could even be deadly, the tab declares:
In one potentially deadly incident earlier this year, strong winds blew out a window, which smashed on the street below.
How potentitally deadly!
Still, the Department of Buildings is said to have inspected the building last year and ruled it safe enough to stand. The real shock, though, is that this thing managed to survive the development boom and not get turned into some equally ugly condo.