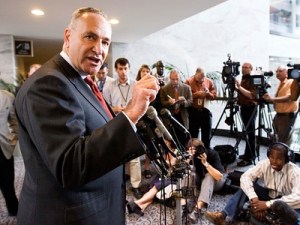 Chuck Schumer, probably.
At least that's the way it looks after a rare election night that saw all five of the statewide Democrats face the voters, and all five win.
In that intra-party conflict, Chuck Schumer grabbed 65.4% of the statewide vote, compared with 61.4% from Andrew Cuomo, 61.2% from Kirsten Gillibrand, 55% from Eric Schneiderman and just over 50% from Tom DiNapoli.
And Schumer won in 59 of New York's 62 counties, which while off of his 61-county total in 2004, still beats the other four Democrats. Gillibrand grabbed 55 counties, and Cuomo snared 50. Schneiderman won 15 counties and DiNapoli won 11.
Of course, some of this is an apples-to-oranges comparison, since each of these candidates faced off against different Republican opponents. Who knows how Schumer would have fared if he ran against, say, Harry Wilson, or how DiNapoli would have done if he had faced off against Carl Paladino.
But it is worth noting that Schumer also has the highest favorability rating of any statewide elected official. If only those folks in Washington could get the message, then maybe Schumer can finally secure his dream job.