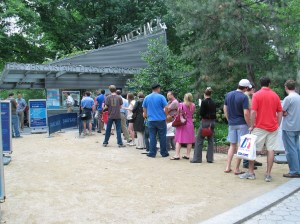 409-415 Fulton Street
Get ready to stand in line, BroBos, because the first Shake Shack is indeed coming to Brooklyn.
The borough was abuzz after rumors circulated that it was getting its first Shack, on the ungentrifiable Fulton Mall, no less. Despite initial denials from Danny Meyer's Union Square Hospitality Group, The Observer has just gotten word from Robert K. Futterman executive vice president Barry Fishbach that Mr. Meyer has taken a longterm lease at 409-415 Fulton Street.
The spot is the current home of the popular Tony's Famous Pizza. But something tells us the 2,600-square-foot space is about to get a lot more popular.
The truth tastes so good.
The joint is set to open in spring 2011, just in time for roadside burger and frozen custard weather.
The inaugural Brooklyn spot will be the chain's sixth New York location and eighth in total, part of an aggressive campaign to expand within the city and beyond–new stores will be opening in Battery Park City, Stamford and Washington, D.C., next year.
In the words of Brooklyn's self-appointed head cheerleader, Marty Markowitz: "It's about time!"