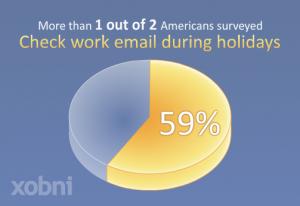 If you were planning to sneak off and check your work email during the Thanksgiving holiday, don't bother. Just do it right at the dinner table, like everyone else.
A new study from Xobni and Harris Interactive found that 60 percent of people check their work email over the holidays, and a third of those folks will check in multiple times a day.
True, 41 percent of people said they were annoyed that they felt the need to check in with work during turkey time.
But amazingly, another 19 percent said they were relieved to have the distraction. Anything to avoid hearing Uncle Mort tell that pilgrim joke for the third time.
bpopper [at] observer.com | @benpopper