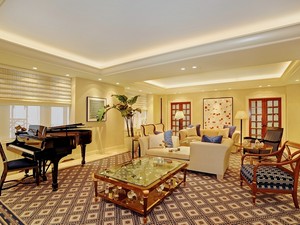 'Twas a couple of nights before Christmas, and while the children were hanging their stockings by the chimney with care, all was not peaceful in the luxury market.
At 875 Park Avenue, a six-bedroom, six-bathroom co-op with 75 feet of frontage and a private elevator became the latest in a string of disappointing uber sales. Like the rest, the fifth-floor duplex–owned by the co-op board president no less–had everything going for it. Except, of course, timing.
This particular 12-room apartment was listed for $17 million last January by its owners, Harvey Schulweis, a former Lazard Freres partner turned owner of a private real estate investment fund, and his wife, Carol.
After falling victim to the Madoff scandal, the Schulweises haven't had a smooth time selling their apartment either. Mr. Schulweis transfered owernship to his wife mid-year for around $7 million. The apartment sat on the market for another six months until it recently sold at a 20 percent discount.
The "enormous" and "highly unique" co-op, according to the listing by Rolls Royce-driving Corcoran power broker Sharon Baum, has sold for $14.05 million to Tami Schneider, the wife of recently deceased Highbridge Capital managing director Richard Schneider.
Let's raise a Cristal-filled glass to a better New Year for the luxury market.
lkusisto@observer.com