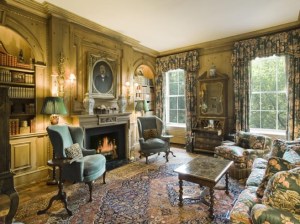 Long before 15 Central Park West rose menacingly from the earth to usurp its throne, 960 Fifth Avenue was simply the best building in the world.
Even 15 CPW designer Robert A.M. Stern has conceded his debt to the original Candela-designed limestone queen, in which each apartment is unique and grander than the last. Now, the coveted 5,300-square-foot, fifth-floor duplex in that most coveted of pre-war buildings will change hands for the first time in 30 years.
Shopping center magnate Murray H. Goodman purchased the 13-room spread with four woodburning fireplaces and eight windows overlooking Central Park for a mere $1.41 million not long after Ronald Reagan's inauguration. A knowledgeable source now says the apartment, most recently listed for $22 million, will go into contract today.
The coveted Fifth Avenue perch was first asking $32.5 million (twice what any apartment had sold for in the building) in the frosty days of January 2009. The price fell softly as a winter's snowfall, sometimes by mere thousands of dollars, before landing on the humbler $22 million tag. No word yet on what the buyer or buyers have agreed to pay.
In her 2007 insiders' guide to the titilating world of luxury real estate, High Rise Low Down, co-author and broker Denise LeFrak said the minimum price of admission to the coveted co-op is $100 million, meaning the purchaser of one of its most expensive units must be worth at least several times that. Even in this town, that's a short list.
The building called 960 unabashedly asserts its aura of solid wealth on the north corner of Fifth Avenue and East 77th Street. Distinguished by a Fifth Avenue entrance that has both a canopy and a marquee, and a facade garlanded by eleven mysterious hooded figures, it enfolds the incomparably fabulous New York anchorages of some of the deepest pocketed influence wielders of the Western world.
Other power-peddlers who live or have recently lived in the building include Venezuelan multibillionaire Gustavos Cisneros, former Goldman Sachs chair Roy J. Zuckerberg and Canadian liquor tycoon Edgar Bronfman.
The Observer made several attempts to contact Sotheby's Eva Mohr, who handled the listing, along with Serena Boardman, but she could not be reached.
SLIDESHOW: See Where the Powerful People Dwell
lkusisto@observer.com | @LauraKusisto