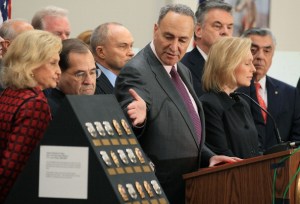 The Zadroga 9/11 Health Care Bill stalled in the Senate this afternoon.
The motion to end debate on the bill just failed by a vote of 42 to 57, with Republicans insisting that a compromise on the Bush tax cuts be reached before they address any other legislation.
Democrats had been desperately trying to reach the 60-vote threshold to prevent a filibuster, but the G.O.P.'s hard-line stance on tax cuts was too much to overcome. The one Republican senator who had publicly supported the bill–Mark Kirk of Illinois–voted with his party brethren, and against bringing the bill for an up-or-down vote.
"The idea that tax cuts for millionaires would derail this legislation is simply outrageous and offensive," said Senator Kirsten Gillibrand in a statement. "The men and women who rushed to the burning towers and worked for hundreds of hours on the pile did not delay and the Senate should not have delayed either, certainly not to give tax breaks for millionaires. We should not have to wait for tax deals to do what's right."
Congresswoman Carolyn Maloney immediately issued a call for the 9/11 bill to become part of the tax cut compromise, an idea floated yesterday by she and the bill's other co-sponsors, Congressmen Peter King and Jerrold Nadler.
"Health care for Americans who are ailing because of 9/11 should not be held hostage to partisan politics," Maloney said in a statement. "The Senate must pass the Zadroga Act before the end of the year if it is to have any realistic chance of becoming law."
Nadler called the Republicans' insistence "callous, calculated and extremely selfish" and said he'll keep working to find a way to pass the bill.
Mayor Bloomberg, who met with several Senate Republicans last month to lobby on behalf of the bill, sent out a statement calling it a "tragic example of partisan politics trumping patriotism," and urged them to "reconsider their wrong-headed political strategy and allow the bill to come to the floor for a vote."
It's unclear when exactly that might happen, as House Democrats voted earlier today to oppose President Obama's "framework" for a compromise on the tax cuts.
"As far as future votes, stay tuned," Majority Leader Harry Reid said on the Senate floor..