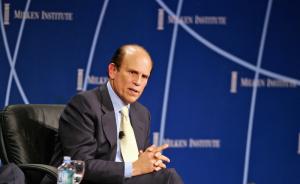 The 269th wealthiest American was waiting for a train in Trenton, N.J. "How much is this, sir?" asked Leon Cooperman, who started Goldman Sachs' asset management arm, then the hedge fund Omega Advisors. "A dollar fifty-nine, for water?"
Mr. Cooperman, according to Forbes, is worth $1.5 billion. "Exorbitant," he sighed, "exorbitant water bill."
Two days earlier, Mr. Cooperman and 16 others became the second group of philanthropists to sign the Giving Pledge, Bill Gates and Warren Buffett's effort to get the country's wealthiest people to publicly promise to give away the majority of their fortunes. "I know people who are just fucking hedonists, excuse the French," Mr. Cooperman, 67, said. "I'm not going to leave my kids destitute–I left them with a reasonable sum of money. And I'll give the rest away."
Meet the Newest Ultra-Rich Givers.>>
His thinking, he explained, was simple: He has worked hard, has no fancy habits, is contemplating what he's going to do with the rest of his life and feels a sort of Talmudic responsibility to share with the less fortunate. "I'm getting older," he said, "that's all."
But like anything involving elephantine sums of money, and because of recent Wall Street pledge-signers like the junk-bond pioneer Michael Milken and the corporate raider Carl Icahn, it isn't a simple story.
There are new signers with more recent scandals than Mr. Milken, who went to prison in the '90s for securities fraud. The subprime magnate T. Denny Sanford's Premier Bankcard, for example, was this autumn named America's worst credit card by Consumer Reports, which complained that its annual percentage rate fluctuates between 23.9 and 59.9 percent. The same month, Ted Forstmann, the head of the sports management behemoth IMG, was accused in a lawsuit of gambling millions on matches, sometimes involving his own clients. "Can you imagine that," he told one reporter, "I bet a few bucks on sports?"
Last month, even before the second batch of donors was announced, The Times' Giving section raised the issue that the pledge might be "totally a PR thing," to which the Home Depot co-founder and pledge-signer Bernard Marcus took offense. "All this money is going for charity to help people," he said then. "What kind of numbskull would find something wrong with that?"
THE OPENING LINE of Mr. Milken's Wikipedia entry says he's known for junk bonds and his guilty plea, and only the sentence's last four words mention his "funding of medical research." Will the pledge that he and his wife, Lori, signed be a step toward changing the financier's place in the public mind?
That question is offensive, said Geoffrey Moore, a longtime spokesperson and a senior adviser to Mr. Milken. In a 1,100-word correspondence with The Observer, he quoted commendations from Alan Dershowitz, Esquire magazine and a former Los Angeles Times columnist, and also the Most Likely to Succeed vote that Ms. Milken won in high school. The "implication that 40 years of philanthropy is some kind of PR ploy to change an image is offensive not just to Mike and Lori," he wrote, "but also to the hundreds of dedicated people who work with them–many of us for decades–on their charitable endeavors; and to the millions who have benefited from the impact of their philanthropic initiatives."
Mr. Moore said Mr. Milken is not defined by the high-yield bonds he pioneered at Drexel Burnham Lambert in the '80s, or the jail time that followed closely afterward. "I talk to people all over the world who wouldn't consider that the definition of who he is. Mike has met with public officials and delivered speeches in more than 35 countries in the past decade alone and he is very widely respected." He added that Mr. Milken was "flooded with similar requests" for interviews; his wife could not speak, either.
The emails from Mr. Moore, like the biography on Mr. Milken's Web site, say that he was listed as one of the most influential people of the century by Esquire two years ago. Quoting The New Yorker, that bio also says, "In the end, Milken was right." That line is from a 2001 James Surowiecki piece called "Drexel 2.0," which compared Mr. Milken's firm, "the sketchiest investment bank in America," to Enron. Drexel, the magazine said, embodied "the brash, corruptible corporate financier," and if many of its insights were correct, like the energy giant's, "both were spoiled by success and undone by hubris."
That image of corporate corruption, Mr. Moore said, was "created by certain writers during a brief period in his life." That was when "the press discovered him as the bête noire of Wall Street because of whispers from the PR departments of his competitors–old-line establishment Wall Street firms that were losing market share." The whisper campaign, he said, succeeded. "Mike didn't counter this campaign, assuming–naïvely, it turned out–that his business and philanthropic accomplishments would speak for themselves."