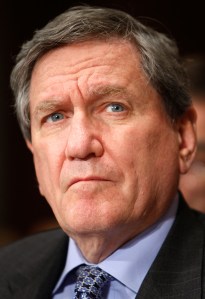 On April 24, 1941, Richard Holbrooke was born in Manhattan. And though he spent his last hours yesterday in Washington, D.C. and much of his diplomat's life crossing borders fighting oppressive rulers tooth-and-nail, he always remained a New Yorker.
And as a testament to that birthright, Holbrooke was a foreign affairs genius who, when he was not ending wars and had a chance to indulge in frivolity, could extend his quick instinct beyond the ravages of the Middle East and onto the battlefields of Manhattan society. He was "The Bulldozer" in both capacities.
After decades of unparalleled journalism (editing Foreign Policy), overseas negotiation (advising multiple presidents and, in 1995, engineering the end of the war in Bosnia with the Dayton peace accords) and investment banking (making millions on Wall Street after selling consulting firm, Public Strategies, to Lehman Brothers) he fully indulged in his Gotham disposition by taking a job as the chief American representative at the United Nations. Such a job allowed for Holbrooke — and his new (read: third) glam wife, Kati Marton, who had just divorced Peter Jennings — to move into an untouched suite at the Pierre, worth $27 million, where they would entertain under the auspices of official U.N. business.
A 1998 story in The Observer anointed them Manhattan's new it couple.
He and his wife of three years have become immediate candidates for the kind of gilt-edged couple encountered in one of his friend Ward Just's Whartonesque Eastern Corridor novels.

"It's as if they're suddenly 'the one,'" said a photographer intimate with the velvet-rope crowd, "for the inner sanctum."
That article — entitled "Here Come The Holbrookes! The U.N.'s New Couple" — displayed not an ounce of restraint as it filled out the ambassador's larger-than-life rockstar aura.
One White House source reported that President Clinton described Mr. Holbrooke as a combination of Michael Jordan and Dennis Rodman, with too much Rodman in the mix.
With the election of a Republican president in 2000, Holbrooke stayed in New York to work for AIG, and continued to dine and travel with the high echelon of those with money, power, and cache. The anecdotes are innumerable; this comes from a blog post in which New Yorker scribe Steve Coll offers up a personal Holbrookean memory.
While we ate lunch, Jerry Seinfeld and some of his entourage entered the dining room; Seinfeld was a guest at the hotel. "Jerry!" Holbrooke shouted, warmly. They were neighbors, it turned out, in New York and Telluride. We stood for introductions and chit-chat. Holbrooke asked what Seinfeld was working on and the comedian talked about his new reality-television show. In mid-explanation, however, Holbrooke's cell phone rang. It was Robert Mueller, the director of the Federal Bureau of Investigation, and so the Ambassador had to interrupt Seinfeld to take the call.
Richard and his wife continued to entertain at their Manhattan home as well, as proven by this nugget from a 2009 story in The New York Times.
Every December, Mrs. Clinton can be found in Mr. Holbrooke and Ms. Marton's apartment, laughing through an annual dinner they hold in her honor. The guests and the entertainment have varied — Glenn Close has sung carols, Robert De Niro and Matt Damon have sat alongside business figures and writers, and one of the tamer toasters called Mrs. Clinton the nation's "first shiksa," or gentile. But Mr. Holbrooke and Ms. Marton always give Mrs. Clinton laudatory toasts of their own.
And when Vanity Fair editor Graydon Carter first opened the Waverly Inn, his star-studded West Village homage to cafe society, Holbrooke was not going to miss out. New York dining critic Adam Platt spotted the regular one the night he happened to be reviewing the place.
In the end, I didn't actually beg to get my table at the Waverly Inn. I had other people do it for me. And once inside, I must admit, I felt pretty damn good about myself. And why not? There was Graydon (for whom I once wrote briefly at the New York Observer), resplendent in his regular banquette, which is situated, like a wary gunfighter's, in the back corner of the room. There was Richard Holbrooke next to him, and next to both of them, hidden discreetly in a little alcove, was Michael Stipe, whose owlish glasses and salt-and-pepper beard made him look bizarrely like Sigmund Freud. And who were all these other people? Who knew? Who cared?
And even when Holbrooke returned to a Washington, D.C. state of mind upon his appointment, by President Obama, to the position of special representative for Afghanistan and Pakistan, he would not rid himself of that Manhattan sensibility.
"What's happened in Swat is a huge wakeup call," he said to Fareed Zakaria. He was being interviewed on CNN in April 2009, and referring to the area in Pakistan. "That is not in the Tribal Areas. That is 100 miles from Islamabad."
He clarified that tidbit thusly: "As I like to say to my friends in New York, it's the same distance as East Hampton is from Manhattan."