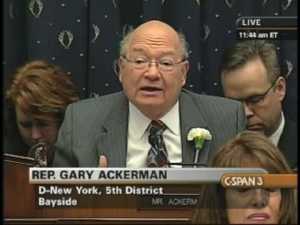 We missed this yesterday, but Queens Congressman Gary Ackerman took to MSNBC to join the ranks of Democrats castigating President Obama for his deal with Republicans to extend the Bush-era tax cuts for the wealthiest Americans.
"Members of the Democratic caucus are saying, 'Why should we take this vote, we're gonna get blamed for adding to the deficit,'" Ackerman said. "This isn't the Dream Act, this is the Republican Wet Dream Act. They get the Democrats to add to the deficit, they get all the benefits for their wealthiest friends in America to pay them off for their huge contributions that they made during the campaign and got an exemption from the U.S. Supreme Court. The whole thing is an absolute absurdity."
Ackerman threw a couple of more zingers in the brief interview, including one where he called the Republican members of Congress suckers who were doing the bidding of the wealthiest.
"They found the dumbest people in America to take their fight up for them," he said.
But still the question remains–can Ackerman keep up with Weiner?
Visit msnbc.com for breaking news, world news, and news about the economy