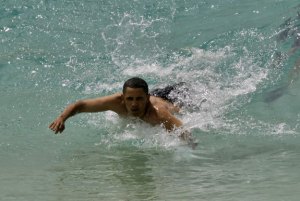 Washington, D.C. is always a bleak and desolate place to be, but in the winter the weather is cold, too. So, being a fairly intelligent man, President Barack Obama opts to spend the holidays away from the chilly District of Columbia and hightails it to his native Hawaii. Lucky for the White House beat reporters and tireless White House aides, they get to come along for the ride.
The Washington Post's Perry Bacon, Jr. didn't want to miss out on all the tropical fun frolicking under palm trees and such, so he dispatched a hard-hitting report from the island paradise. When the work's done, it seems, it's all luaus and poi for the staffers. CNN White House correspondent Ed Henry even gets to wear some festive shirts!
Henry, who also covered the Bush White House, is here for the third straight year and has created something of a brand covering Obama's vacations. He trades his traditional news correspondent garb of a suit and tie for a seemingly endless variety of multi-colored Hawaiian shirts and flip-flops.
But life's not a beach for everyone. For some aides the trip requires some serious multitasking.
Aside from those routine situations, both reporters and aides try to stay ready in case of major news. Nick Shapiro, a White House assistant press secretary for homeland security issues, bought a waterproof cover for his BlackBerry so that he can go surfing but keep his device with him at all times.
I guess it's a prerequisite that Barack's staffers be able to hang ten and BBM at the same time. Surf's up!
Click for Scandal Report: With Natalie and Mila in Town, New York Goes Swan-Crazy