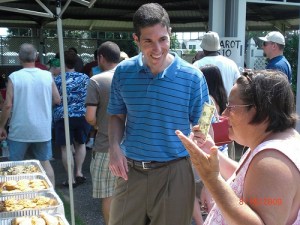 G.O.P. congressional candidate Randy Altschuler has conceded his race to Democratic incumbent Tim Bishop this morning.
Says Altschuler: "I entered this race because I was worried about the future of our nation. The problems America faces are many and will not be easily solved. I plan to stay active in politics and continue to speak out on the issues that affect the residents of Suffolk County, our state and our nation. Those issues include high taxes, runaway spending and an ever-growing deficit. I intend to play an active role in building the Republican and Conservative Party voices in both Suffolk County and New York State."
With nearly 1,000 absentee ballots left to be counted, Bishop led Altschuler by 263 votes out of 194,000 cast. The seat had been a major target of the G.O.P and a bitter primary that included state G.O.P. chairman Ed Cox's son Chris Cox left local Republicans divided.
Altschuler has vowed to try again in 2012.