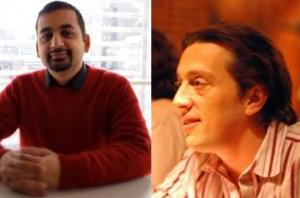 The results of the New York Tech Meetup Community Board election are in.
Protoblogger and entrepreneur Anil Dash, with 118 votes, and New York University computer science professor Evan Korth, with 97 votes, nabbed the two open seats on the board of the 15,000-strong organization.
Seventeen candidates campaigned for the positions (see them in our feature: Meet the Candidates Vying for NY Tech Meetup's Board).
Creator of the New Work City coworking office Tony Bacigalupo came in third with 75 votes.
Only 590 members of the NYTM voted, adding up to a turnout of less than 6 percent.
The election generated some controversy because members were only allowed one vote each despite the two open spots, and some members vocally criticized the current members of the board for complacency.
Candidate Noel Hidalgo is one of the members who feels he has unfinished business. "Ahem… are we really going to wipe clean the slate of issues that materialized?" he wrote to the highly-active NYTM listserve after results were announced.
But most of the group was oblivious, as discussions on the listserve continued to center around office space, development, phones, and the other usual topics.
Korth was at a coffee shop when he saw a tweet from Sanford Dickert, another candidate, congratulating him and Dash.
"I'm looking forward to working with the other members of the board of directors as soon as possible," he said. "Specifically I want to continue doing what I've been doing for the past five years, strengthening the ties between New York's academic institutions and the New York City innovation community."
"I look forward to doing that with the New York Tech Meetup as one of the primary vehicles to help embiggen that pipieline," he said.
Korth's platform was focused on expanding initiatives like hackNY, a summer program that matches local startups to NYU students so they can learn skills outside the classroom, expand opportunities for students and strengthen the ties in the local tech and entrepreneurial communities.
He is also an adviser for the NYU Association for Computing Machinery, a student organization for computer science, and tech@NYU, which produces NYU Startup Week.
Dash was not available for comment but he tweeted his victory speech: "Honored to have been elected to the @NYTM board, along with @evankorth. Lots of work to do to make #NYTM more inclusive and effective."
Dash has a strong following in and outside of New York thanks to his blog, dashes.com, which he started in 1999. His platform included broadening the meetup to include the Maker Movement and technology beyond the mobile and web applications that are trendy right now.
He also emphasized that New York should be doing more to compete with San Francisco for talent, and that New York's techies should be more aggressive in flexing "our formidable financial and cultural muscles to make sure that elected officials know there are political consequences to ignoring the values of the technology community."
NYTM recently registered with the state of New York and is seeking not-for-profit status. The group will elect two more community members to its 13-member board over the next two years.
ajeffries [at] observer.com | @adrjeffries