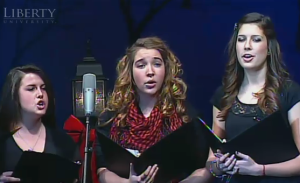 How long can Kevin Antoine Dodson's "bed intruder rant" maintain it's hold on our collective attention? It's already spawned the most watched viral video of the year, the Gregory Brothers' "Bed Intruder Song," and earned the Alabama anti-home invasion crusader a gig as spokesperson for a sex-offender tracking smartphone app.
Naturally, the meme is now being used to spread the Gospel.
At the recent Christmas Coffeehouse at Liberty U.—the same school with the unexpectedly kick-ass debate team—a "Glee"-like teen choir performed an a capella cover version of the song that is now predictably burning up the web.
Don't you just love it when teens perform?