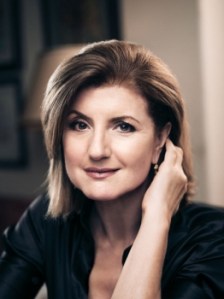 Huffington Post CEO Eric Hippeau was all over the news last week for reluctantly saying that the Huffington Post will be worth more than the Wall Street Journal in five years. What was he supposed to say? The Dow Jones President was right there, next to him at the Business Insider Ignition conference.
Huffington herself has no time for such chest-puffing, she said at the same event:
"This conversation is really just another demonstration of how you guys are all about who has the biggest swinging dick. As the 'the spiritual leader of the Huffington Post,' as you called me, as far as I'm concerned, my objective is how can we keep growing our traffic and how can keep providing better and better content and I don't see it as a zero sum game. I hope that in five years the Huffington Post will be flourishing and the Wall Street Journal will be flourishing and there will be a dozen other news and opinion sites we've never even heard of. That's the future. I really think that this is such an old fashioned guy game and we women need to resist participating in it, ok? "
True to her word, Huffington refused to be measured up against Tina Brown.
"We are not in the print business", she said when moderator Henry Blodget asked if she wished she'd bought Newsweek.
When pushed further ("But Tina is"), she refused to take the bait.
"It's a very different business. We have a very robust business and we're profitable. We have about 24 million unique visitors a month, that's a very monetizable business. We have our business model."
Video below and at Business Insider.