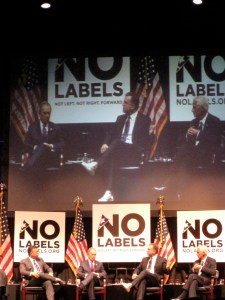 Mayor Bloomberg appeared on the afternoon panel at the "No Labels" conference this afternoon alongside Gov. Charlie Crist of Florida, Rep. Mike Castle of Delaware and California Lt. Gov. Abel Maldonado and seemed to acknowledge the difficulty of creating a world free of political parties.
"It's not clear that the average person feels themselves disenfranchised or wants a lot of the things we are advocating," Bloomberg said. "In the end when you have an independent candidate it is the two major parties that get most of the votes."
The panel was hosted by Dylan Ratigan, the MSNBC personality, who noted that his first boss when he moved to New York was Mayor Bloomberg. Ratigan worked at Bloomberg Television as a business correspondent. Also sitting on the panel was Ellen Freidin, who spearheaded an effort in Florida that Bloomberg supported to draw legislative lines in a non-partisan manner.
Bloomberg said that nonpartisan redistricting was difficult because legislators who draw the lines are trying to move up the political ladder to one day, he speculated, position themselves to run for President, "which I assume most of them want to be," he said. The mayor's embrace of nonpartisan politics first began in 2008, when he himself left the Republican party in a move that many suspected was designed to position himself to run for President.
"They do what you expect them to do. They make sure they don't have competitive races."
The mayor also reminded the audience of his own push to get nonpartisan elections in New York City, which was overwhelmingly defeated in 2003. He noted that not only were Democrats not in favor, but Republicans, who would presumably benefit from them in this heavily Democratic town, were also against since nonpartisan elections would lessen the role of party power brokers in elections.
"Given the results, it was hard to find anybody in favor but me."
The mayor also lent his first public thoughts on the race to replace him, noting that the electorate would likely be choosing between 6 or 7 Democratic candidates, and that only five or six percent of the people will decide who the next leader of the city is.