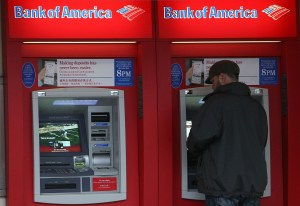 Banking behemoth Bank of America, the company that's assembled a "legal SWAT team" in anticipation of a supposed Wikileaks bombshell coming its way next year next year, announced over the weekend that it's suspending payments to the document-distributing site. The New York Times reports:
"Bank of America joins in the actions previously announced by MasterCard, PayPal, Visa Europe and others and will not process transactions of any type that we have reason to believe are intended for WikiLeaks," the bank said in a statement issued on Friday. "This decision is based upon our reasonable belief that WikiLeaks may be engaged in activities that are, among other things, inconsistent with our internal policies for processing payments."
In response, Wikileaks took to Twitter to effectively call for a bank run on BofA. "Does your business do business with Bank of America? Our advise is to place your funds somewhere safer," the organization said. BofA joins MasterCard and PayPal among companies that have terminated their services to Wikileaks.
mtaylor [at] observer.com | @mbrookstaylor