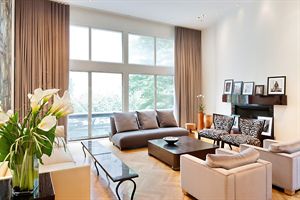 Like the hands of a wristwatch, the price of Benny Shabtai's townhouse goes round and round. Circling from a $33 million high to a $17.5 million low, the townhouse is finally out the watch mogul's hands.
Mr. Shabtai has transferred the ownership of his long-languishing home at 870 Park Avenue to his wife, Winick Realty exec Lori Shabtai, for $10 million in a divorce settlement. The townhouse continues to be listed with Douglas Elliman's Dolly Lenz for $24.5 million.
The Robert A.M. Stern-designed building possesses all the sleek lines of a designer watchbox, but apparently not the same hypnotic pull for luxury buyers.
Mr. Shabtai bought the townhouse for $8 million in 2000, and listed it four years later with Corcoran's Carrie Chiang for $23 million. It didn't sell, but undettered, he relisted the place in the dying days of the boom with Paula del Nunzio for $10 million more. Just six months later, the listing flipped back to Ms. Chiang, who cut the price almost in half, to $17.5 million.
That brings us to today, when the 12,000-square-foot spread remains one of only a couple of dozen in this market asking more than $24 million. But after four tumultuous years, that's not Benny Shabtai's challenge any more.
Check out the biggest sales of 2010. >>
lkusisto[at]observer.com; @LauraKusisto