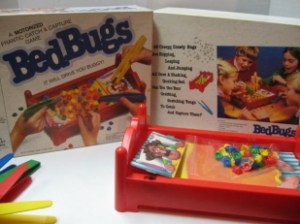 The holidays can be stressful, emotionally draining and certainly freezing cold. But imagine if, on top of everything, your apartment was terrorized by tiny, bloodthirsty bed bugs. And naturally you're broke, so there's nothing you can do about it. Just the worst, right?
Well guess what! You may not have to spend this Christmas hunkering down in fear of bites from tiny insects! BedBug Central, a site devoted to assisting the bug-inflicted in finding exterminators, is giving the gift of insect death this December, the New York Daily News reports. The site has reached out to several extermination firms in the city, asking them to provide needy New Yorkers with free service. The efforts can save those without means up to $3000 in fees.
"It's to give back to the community," Peter Scala, owner of Parkway Exterminating in Long Island, told the Daily News. A saint, this one!

To gain this opportunity of a lifetime, all one has to do is take a few minutes out of their bed bug-ridden day and write a 300-word statement to BedBug Central. So get writing! Bed bugs multiply fast.