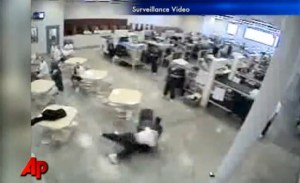 Bill Ackman — the eminently successful hedge fund manager, activist investor and real estate dealer — has written a letter detailing his Pershing Square funds' third-quarter dealings, and the silver-haired money manager is extremely pleased with his holdings in Corrections Corporation of America, America's largest private jailer. Ackman writes:
Corrections Corp was a significant contributor to performance during the quarter as the stock rose 29.4% on the announcement of several key contract wins including a 1,200 bed contract with the U.S. Marshals Service for its California City facility, a build-to-suit contract with the state of Georgia for 1,150 beds, and its assumption of the management of two new facilities in Florida. CCA and its existing inventory of empty beds will be the beneficiaries of the combination of rising prison populations, overcrowded public facilities, and a lack of new prison builds by either the federal or state governments.

The company has been an aggressive buyer of its own stock, repurchasing more than 5% of its shares since the beginning of the year. As a result of the recent contract wins and its stock repurchase activity, CXW recently increased its guidance for 2010 free cash flow per share. The Company now trades at an approximate 9% free cash flow yield, which we find attractive.
Here is an Associated Press video of Corrections Corporation of America guards watching as an Idaho prisoner literally beats a fellow inmate senseless. The company has also spent a pretty penny lobbying for tougher sentencing laws. Great call by Ackman, though.
mtaylor [at] observer.com | @mbrookstaylor