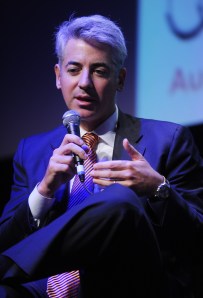 Bill Ackman, investor in the prison-industrial complex and famous decrier of bond insurers, is now looking to up his influence in the world of bookselling. The head of Pershing Square Capital Management has said he's willing to fund a $960 million buyout of Barnes & Noble by Borders. The Times reports:
Mr. Ackman's Pershing Square Capital Management said that it would finance an all-cash bid of $16 a share, a 20 percent premium to Barnes & Noble's closing stock price on Friday.

Pershing also disclosed that it had raised its stake in Borders to 37.3 percent from 31.5 percent. Recent share purchases vaulted Pershing past Borders' chairman and chief executive, Bennett LeBow, who owns a 35 percent stake through stock and warrants.
Barnes & Noble earlier this year rebuffed the activist overtures of Ron Burkle and previously counted Mr. Ackman as an investor.
We've been trying to figure out what Ackman's play is here. It's not immediately obvious, as two of the things that make Barnes & Noble famous — selling actual books and selling e-books — have posed some problems.
In late November Barnes & Noble reported a second-quarter loss resulting from steep costs to develop its Nook e-reader and weak physical book sales.
Ackman says there are substantial synergies to be accrued from a merger. Is there also maybe some underlying value tied to Barnes & Noble's massive brick-and-mortar real estate presence? With 717 bookstores (and the company owns all the property), the chain has a massive commercial real-estate footprint in all 50 states. Maybe there's some value to unlock there.
mtaylor [at] observer.com | @mbrookstaylor