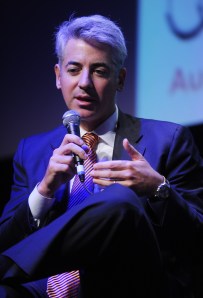 Fortune Brands, the weird amalgam of sporting, liquor and faucet companies, is breaking into three pieces. Somewhere, billionaire investor Bill Ackman is probably doing a fist pump of joy.
By The Wall Street Journal's tally, Mr. Ackman has already gained about $300 million by trading in Fortune shares:
In pre-market trading, Fortune Brands are pointing up about 4.6% to $63.97. At Ackman's rough per-share average purchase price of $45.88 for his Fortune Brands stake, the hedge fund manager has make a paper profit of about $302 million dollars.
The liquor business will stay under the Fortune umbrella, while the "home and securities business" — Master locks and Moen Faucets, among other things — will be spun off, tax free, to Fortune shareholders. The company is also contemplating a sale or tax-free spinoff of its golf business — Titleist golf clubs and FootJoy shoes.
That Ackman was able to score so much loot from what seems obvious — that all these different weird products probably don't belong all in one company — is perhaps the most remarkable thing about this news. But perhaps sometimes it takes some forceful "discussion" from an activist investor to shake a company out of its funk.
mtaylor [at] observer.com | @mbrookstaylor