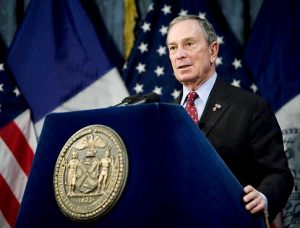 Mayor Mike Bloomberg encouraged New Yorkers at an afternoon press conference at City Hall today to be patient as the city digs itself out from under a massive blizzard.
"The world has not come to an end," Bloomberg said . "The city is going fine, Broadway shows were full last night. There are lots of tourists here enjoying themselves. Two people told me they went to the theater last night and afterwards tried to get into a restaurant and there was a waiting list. I think the message is, 'The city goes on.' Our Sanitation Department needs some help, they need cooperation. If you do that, things will get better much quicker."
Bloomberg encouraged New Yorkers to take mass transit and to continue to enjoy the city. But the mayor may have had his eyes on the tax revenues that will be lost if too many people stay home. His message was contradicted by some of those tasked with getting the city up and running again.
MTA Chairman Jay Walder said that the subways and buses will not be up to normal capacity, especially the lettered lines in Brooklyn and Queens, until some time tomorrow. And Sanitation Commisioner John Doherty said it would take at least 24 hours for all of the city's roads to be plowed.
Walder also defended his agency, even though there are reports of passengers being stuck on subway trains, in some cases for over 9 hours.
"One option clearly would have been to stop running all services," he said. "I think what you do is find a balance."
Bloomberg also asked New Yorkers to ease up on the 911 calls. He said that the system was being overloaded with non-emergencies, and that residents with blizzard-related gripes should instead try 311.