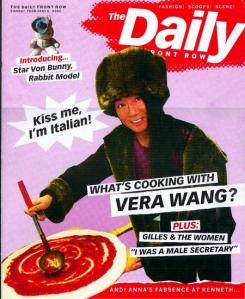 News Corp. is seeking a court ruling that it can use 'The Daily' for its forthcoming daily iPad newspaper without infringing upon IMG's trademark on 'The Daily Front Row', reports Bloomberg.
"IMG has claimed it has exclusive rights to use the words 'The Daily' as the name of a publication," New York-based News Corp. said in an e-mailed statement. "Those words are a generic phrase and cannot be protected as the name of a media outlet."
The Daily Front Row, commonly referred to as 'The Daily,' is a fashion week daily print publication and year-round industry blog owned by mega talent and media company IMG. The Observer e-mailed with The Daily Front Row Editor in Chief Brandusa Niro on this topic in November, when IMG Holdings first voiced opposition to the The Daily. She wrote that although no one can trademark 'The Daily', another publication's use of it still infringes upon their ownership:
As you may know, the first user of a trademark is the owner. IMG was the first user of the mark THE DAILY. Our use goes back to February 2003. Consequently we are the owner of the mark with respect to fashion publishing, print and online. As our trademark attorney expressed it, registering a mark is merely giving constructive public notification of the ownership. It helps to foreclose an infringement defense of "good faith adoption without knowledge". However, registration is not mandatory. THE DAILY Front Row is a registered trademark.

Our publication has been refered to as The Daily for eight years. We also have our own I-pad app, our own website and our own multimedia components. We've already noticed confusion for the past two weeks, people calling us saying, Are you doing a story on us? Who is this person from The Daily who has been calling, etc. Turns out it's not from The Daily, it's from another The Daily, and so forth.
She added that she'd never had similar confusion with any of New York's other 'Daily's, like the Beast or the News.
We are the only ones referred to as The Daily alone, and have been for 8 years, and no one has yet started something also called The Daily.
This isn't the first trademark trouble for Murdoch's 'Daily,' either. It was reportedly to be called 'The Daily Planet,' after the fictional comic book broadsheet that employs Clark Kent and Lois Lane, until DC Comics objected.
Ain't this town big enough for the two of them?