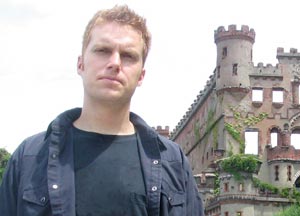 Adam Sternbergh has been hired as a culture editor at The New York Times Magazine, editor Hugo Lindgren told The Observer.
Sternbergh is an editor-at-large at New York magazine, where he and Lindgren worked together before Lindgren left for Bloomberg BusinessWeek in January 2010. Lindgren was named editor of The New York Times Magazine in September and has since assembled a dreamy team that includes former New York staffer Lauren Kern as deputy editor and The New Republic's Greg Veis as front-of-book editor. GQ story editor Joel Lovell is believed to be joining the staff soon, too.
"I was [Sternbergh's] editor, he did the Approval Matrix, and he was great at everything," Lindgren told The Observer. Sternbergh's position is an addition to the existing Times Magazine culture staff, reflecting a greater emphasis of cultural coverage which will become more apparent after the redesign is unveiled at the end of February.
"Adam's got really good, broad taste and a lot of enthusiasm for a wide range of cultural subjects. He has a great sense of humor and a light touch–just the kind of person you'd want to see in the office in the morning," Lindgren said.