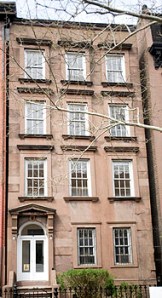 Martin Amis' arrival in Brooklyn is a little like the pope's long-awaited visit to Jerusalem. Many will cheer, a few will gripe, and most self-assured Brooklynites will simply ask, "What took so long?
The "most celebrated and vilified" novelist of our generation has bought a $2.5 million brownstone in Cobble Hill, a holy grail, of course, for writers and poseurs (and writers who are poseurs). No word yet on how much time he plans to spend on this side of the Atlantic.
The author of Money and London Fields is famous for his sharp prose and withering stare, but he's previously fled the harsh glare of London's literati, temporarily relocating to South America following the critical flogging of Yellow Dog. His most recent work, the "blindingly autobiographical" The Pregnant Widow, was well-received, however, so maybe he just likes greenmarkets.
The sprawling 5,300-square-foot place purchased by Mr. Amis and his wife, Isabel Fonseca, is not very far from the home of another cultural icon, though he might not appreciate the comparison. The property was listed by previous owner Gary Pollard for $2.875 million with Angela Ruggiero at Brooklyn Bridge Realty. It's currently configured as a multiple-family dwelling, but Mr. Amis probably won't be looking for renters.
Based on the listing pictures, the historic brownstone looks to be in tip-top shape, with restored pine plank floors, tin ceilings and marble mantels, although those terra-cotta kitchen tiles look ripe for an update. But before undertaking any epic renovations, the new Brobos should be warned, the neighbors may not take kindly to it.
laurakusisto[at]observer.com; @LauraKusisto