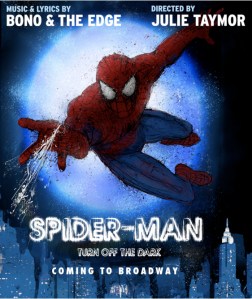 When the lead stunt man fell from his harness, decked fully in the hero's web-wrapped garb, at Monday night's performance of the Julie Taymor's disatrous and accident-plagued Spider-Man: Turn Off The Dark, it marked the fourth time a crew member had suffered an accident on stage. Producers have dumped $65 million into the musical, making it the most expensive show to ever hit Broadway, but even that isn't enough to protect its actors.
Not surprisingly, many are calling for the show's cancellation, including several Broadway performer peers. The New York Post has a roundup of tweets and Facebook updates that direct ire toward Taymor and those keeping the show going.
Alice Ripley, of Next to Normal, fired some serious shots on Twitter yesterday.
SPIDERMAN SHOULD BE ASHAMED OF ITSELF. THIIS [sic] IS COMPLETELY UNACCEPTABLE AND EMBARRASSING TO WORKING ACTORS EVERYWHERE.

DOES SOMEONE HAVE TO DIE? WHERE IS THE LINE FOR THE DECISION MAKERS, I AM CURIOUS.
Alice! Your caps lock is on!
Adam Pascal — who can ride out being in the original cast of Rent for the rest of his career — clarified that "his anger is real" after posting this on his Facebook:
They should put Julie Taymor in Jail for assault! I know what its [sic] like to fall and get hurt in front of 2000 people. It's no fun, but at least it was the one time it happened. I hope whoever was hurt is ok and sues the shit out of Julie, Bono, Edge and every other asshole who invested in that steaming pile of actor crippling shit!
With the show apparently soldiering ahead despite the accidents, we can probably expect more belligerence aired to the masses through social networking platforms. Make it stop, Julie, and just pull the plug.
nfreeman at observer.com |@nfreeman1234
Click for Scandal Report: And Then The Model At Diddy's Party Burst Into Flames