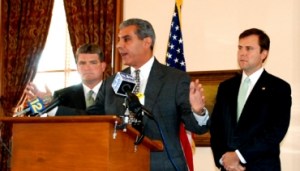 TRENTON – Business versus science.
An argument ensued here at the Senate Budget Committee over proposed changes to the permitting process derived from Lt. Gov. Kim Guadagno's Red Tape Review Commission, which critics say would weaken environmental standards and muzzle opportunites for public input regarding state-imposed regulations.
A co-sponsor of Senate Bill 2013 with state Sen. Joe Kyrillos (R-Middletown), state Sen. Steve Oroho (R-Franklin) said his legislation would change the chapter expiration dates of rules from five years to seven years, and establish a new procedure for the readoption of rules without substantive changes.
"If there's a signficant concern there's nothing in here that says it can't be changed," said Oroho, moments before Democrats led by Senate Budget Committee Chairman Paul Sarlo (D-Wood-Ridge) joined Republicans to pass the bill over a lone dig-in from Senate Majority Leader Barabra Buono (D-Metuchen), 9-1.
The environmental committee vainly implored a reconsideration of the legislation.
"Extending rules… undermines the ability of government to be responsive to science, business and public need," said Jeff Tittel, director of the N.J. Sierra Club, "By extending rule time, this will delay updating of rules based on scientific findings. Rules could be in place for 30 years without changes. This will have a direct impact on the environment and public health.
"Agencies can readopt rules without major changes with no public input," Tittel added. "There is no definition of minor changes. The changes may be more than minor. Instead of making government more effective, this bill enables it to be lazier and more bureaucratic."
Senate Majority Buono rode point in opposition to the bill.
"I think this is what we can describe as a fairly profound ideological difference," said Buono, who removed herself from Guadagno's commission earlier this year in protest of what she cited as the anti-environmental template of the group's mission.