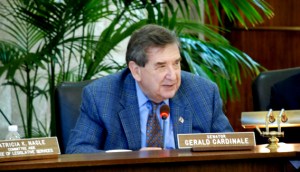 TRENTON – Sen. Joe Vitali (D-Woodbridge) wants to remove the statute of limitations in civil actions for sexual abuse and expand the categories of people who may be liable to such cases.
Right now it's a two-year statute. Vitale wants that scrapped.
Veteran state Sen. Gerald Cardinale (R-Demarest) has no problem with executing people who abuse kids. But he's troubled by Vitale's bill, No. 2405.
"It's my understanding that when these cases go to court, the knowledge base is expanded from known to should have known, so that more rather than less liablity is accrued," Cardinale says, from his perch on the Senate Judiciary Committee.
Institutions that are trying to do the right thing will get caught in the umbrella, he argues.
"We have the potential creation of an industry that would involve billions of dollars – verdicts against public and priuvate institutions," Cardinale says.
"I have no problem reinstituting the death penalty with respect to people who commit these crimes," he adds, but he frets about empowering lawyers to the detriment of hard working families and their businesses.
Unsupportive of the bill, Cardinale says he would join Vitale in increasing the criminal and civil penalties if they were visited only on those who committed the act.
"My concern is if it was the policy of an institution to not only permit but allow the continued abuse of children, then that instituion must be held accountable," counters Vitale, who notes the complicity of religious institutions in sexual abuse.
"It is the institution that is equally responsible for those horrible crimes."
If there are any questions about which institutions might be impacted, New Jersey Catholic Conference spokesman Pat Brannigan approaches the microphone now to speak out against the bill.
"Who amongst us candefend ourselves against us that requires us to know what we were doing 20-30-40 years ago? How can an institution defend itself against a perpetrator that is 40-50-60 years old?"
Witnesses die, he says. Memories fade.
"All of the Catholic dioceses provide outreach care," Brannigan says.
Cardinale's criticisms notwithstanding, Democrats have the votes to move this bill out of committee this evening.