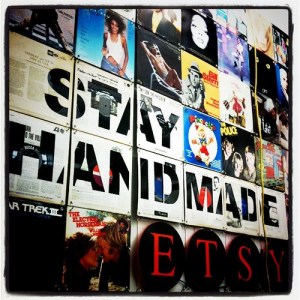 Etsy's spacious office in DUMBO is as whimsical as the site.
The desks, checkered office curtains and office embellishments like a six-foot pair of wooden eyeglasses were all purchased on the site, which The New York Times calls an "online bazaar" from a "crafty company" in a story today about how Etsy "eats its own dogfood" by buying some of the vintage and handcrafted items on the site.
New employees get $100 to spend on quirky accoutrement. How about a personalized trashcan? Or a pen that looks like it's covered in barnacles, and a pen holder made out of Capri Sun pouches? Talk about flair!
The result is that the office looks a little like Alice's Wonderland. The Times doesn't even mention the trippy phone booths.
ajeffries [at] observer.com | @adrjeffries