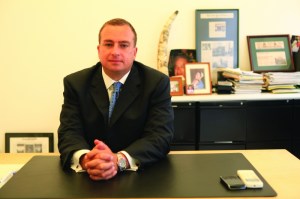 Developer Sharif El-Gamal just can't catch a break. Ever since he exploded into the national consciousness with the proposal for Park51, the so-called Ground Zero mosque, it's just been one problem after another.
First there were all the threats from preachers and right-wing bloggers. Then El-Gamal was pursued for back-rent at his old Soho offices and attacked for an application for 9/11 recovery funds to help build Park51. Now, Citibank is suing El-Gamal for nearly $100,000, according to The Real Deal.
El-Gamal's Soho Properties took out a line of business credit at an unspecified date, and is looking to restructure it, though the bank appears unwilling to play along:
El-Gamal told The Real Deal in a statement through a spokesperson that Soho Properties was attempting to restructure the debt used for general operating expenses, and was not experiencing a cash-flow shortfall. In a common practice in today's environment, borrowers are halting payments to put a loan in default, which allows them to begin negotiating with the bank.
El-Gamal escaped his last suit, over the rent, so maybe he can get out of this suit, too. After all, if you can survive a media firestorm, you can survive anything, right?