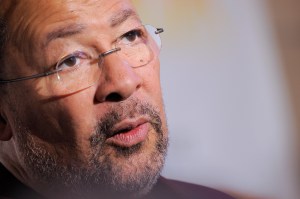 Citigroup Chairman Richard Parsons believes his firm is too "interwoven" with the fabric of the global financial system to be allowed to fail. But more frightening, perhaps, than the prospect of a behemoth institution bringing down the global system, is the devil-worshiping fervor expressed by critics of government bailouts. Witness this snippet from today's CNBC interview with Mr. Parsons:
Parsons: I must say I thought that there still was an awful lot of emotion and heat around the bailout, and this was somehow practically satanic.

Becky Quick: We hear it all the time.

Parsons: Believe me, I hear it on the streets.
When Parsons takes to the streets, he listens to the people, and they talk about the demonic possession of their neighbors, who thanks to the evil in their souls cannot see why the $45 billion Citi bailout was good for everyone. It did yield a profit of about $12 billion for the taxpayer, after all.
mtaylor [at] observer.com | @mbrookstaylor