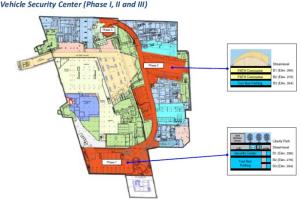 It may be the most despicably brilliant feat of engineering since the Panama Canal.
Last week, the St. Nicholas Greek Orthodox Church announced a suit against the Port Authority over the agency's refusal to rebuild the chapel in its original location at 130 Liberty Street. But it could be too late, as the agency and its contractors at Ground Zero appear to have designed the church right off the site.
The chapel was destroyed on 9/11, and the Port Authority would rather it was rebuilt on a neighboring lot, at 155 Cedar Street.
If the Greek Archdiocese of New York had its way, the new St. Nicholas would be located atop the vehicle screening center. This massive security complex will inspect all deliveries to the World Trade Center before allowing them into a spaghetti of tunnels underneath the 16-acre site. It is meant to keep the ballet of daily deliveries and visitors — there is ample tour bus parking — from interfering with the goings on above as well as providing the best security possible to those buildings by segregating all incoming vehicles before they enter the site.
Some of the biggest players in real estate this year were working at Ground Zero. Check 'em out. >>
The screening center is primarily located below ground, and will look from the sidewalk like just another plot of land. Really, it is the roof of a massive building, and in order to build St. Nicholas on top, the center's structure would have to be supportive enough.
According to the Post's Steve Cuozzo, the Port Authority has already designed and bought construction material for much of the project, and in its current form, the screening center would be structurally incapable of supporting the church, or any other building for that matter.
Not only the amount of steel which the PA ordered over a year ago, but also the way it's being fabricated to house the underground "helix," is inadequate to hold up the church, which would be larger than the original and was to include public meditation space and other facilities.

In fact, according to our sources, the way the VSC has been designed beneath 130 Liberty St. now makes it impossible to construct the church, which the archdiocese hopes to compel the PA to help it build and partly fund.
An attorney for the Greek Archdiocese of New York insists this is a bunch of "baloney," telling Cuozzo, "They didn't order enough steel, order more steel. Anybody in litigation can say they can't do something." Yet an engineer points out that this would not only cost millions of dollars but also delays, which could aggrivate the site's real power broker, Larry Silverstein.
Maybe, just maybe, the Port Authority can save itself the headache and give some of those millions to the church instead, so they can build something a little grander next door.