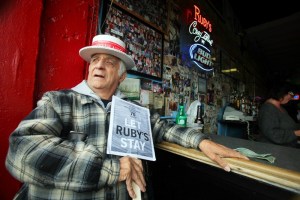 The freaks, rogues and Ruby's of the Coney Island boardwalk will not be driven into the sea without a fight!
Over the weekend, the eight boardwalk businesses hired both a legal and PR team to make their case in court and the community, following a November notice that their long-standing leases would not be renewed. It has been a big year for the revived Coney Island, posting the best summer attendance in decades.
Yet Italian amusement company Zamperla knows how to fight, too, and is now warning of an empty boardwalk next summer if the companies don't scram, according to the Post. Even if the businesses' legal challenges prevent Zamperla from having new boardwalk shops ready to go by opening day, the company would sooner keep them shuttered than allow its new nemeses back in.
The businesses don't entirely blame Zamperla, either:
Anthony Berlingieri, owner of Shoot the Freak and Beer Island bar, ripped Zamperla, saying the company wants "the properties at any cost, even if it means an empty boardwalk."

He also accused the Bloomberg administration of being "two-faced," saying "city officials are letting Zamperla make Coney Island go dark" but in previous years had pressured developer Joe Sitt, the boardwalk businesses' former landlord, to renew their leases to avoid an empty beachfront.
And we thought a haunted boardwalk was a scary proposition.