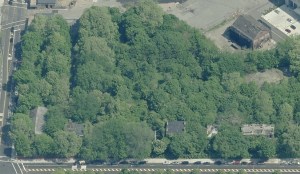 It took a half-dozen years to come to an agreement on Admiral's Row, the stretch of Federal Style 19th Century buildings bordering the Brooklyn Navy Yards. There was constant fighting over how many of the historic buildings to save when transforming the site for a new grocery store.
Earlier this year, An Admiral's Row compromise was reached that would save one of six houses as well as the historic Timber Building, a structure where planks were dried and seasoned before they used to build ships. It is
believed to be the last building of its kind in the country.
If the Coast Guard doesn't get its act together, there may be none left.
SLIDESHOW: Admiral's Row Through the Years >>
Thre Daily News reports that the Timber Building is in such a state of disrepair that

Navy Yards officials are concerned it could be destroyed this winter if the Coast Guard does not take drastic action in shoring up the structure.
"The building is in real distress. The roof is starting to fall in," Navy Yards president Andrew Kimball told the News. "If action isn't taken very, very soon to stabilize the building, it will collapse."
It's an ironic problem. The deal with the Coast Guard to develop the site requires the two buildings be preserved, otherwise the development agreement could fall apart. Yet the Coast Guard is responsible not only for neglecting the historic gems now, but for decades leading up to this fateful day. They may know how to save people, but they're terrible at preserving buildings, apparently.
SLIDESHOW: Admiral's Row Through the Years >>