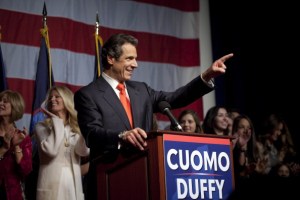 Governor-elect Andrew Cuomo is moving his State of the State speech out of the Assembly chamber and into the arms of the people.
Cuomo announced this morning that he'll deliver the annual address at the Empire State Plaza's Convention Center, a decision he explained on Fred Dicker's radio show this morning.
"We can only fit the legislators and the lobbyists," Cuomo said of the Assembly chamber. "What a metaphor for the problem!"
Instead of legislators and lobbyists, Cuomo said he would like to have more "people-people" attend the speech. "A lot of what you will hear me talking about as governor is re-connecting people with the government," he said. (Cuomo has already been talking quite a bit about metaphors.)
Dicker wondered how Assembly Speaker Sheldon Silver might react to the move, but Cuomo said the issue had been raised by Silver, who apparently told the governor-elect that the requests to attend exceeded the number of available seats.
"Speaker Silver noted that with the state in fiscal crisis and with excitement over the incoming administration mounting, the overwhelming response for invitations now exceeds the limited seating capacity available in the Assembly Chamber, the traditional venue," read the press release.
Silver's quote in the release was more Silver-esque: "We look forward to his first State of the State Address and to working with him to deal with this fiscal crisis and to reinvigorate our democracy."
Cuomo also said he had invited Silver and incoming Senate Majority Leader Dean Skelos to deliver remarks, and that both had accepted. "This is, if anything, vis a vis the Legislature, this is going to be more inclusive and more participatory," Cuomo told Dicker.
Cuomo said the tickets would be distributed through a lottery system. "I bet you we get a multiple of the 1,000 or so seats we have," he said.