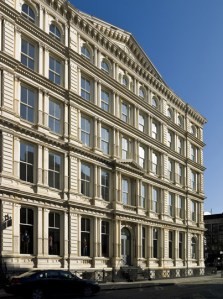 –It's been quite a show, starring Sarah Jessica Parker, Hugh Grant and Gerard Butler, but it's almost curtains at the Bouwerie Lane Theater. Except for the $14.5 million penthouse, everything in the condo conversion at 54 Bond Street has been sold.
Two separate buyers have taken the entire third and fourth floors of the building, according to developer Adam Gordon. The third-floor unit, which was listed for $4.5 million, has sold for $4.365 million. The buyer is MSD LLC. Could it be one of the celebs who have previewed the place in the last few months? Not if those initials are anything to go by.
The apartment on the fourth floor was listed for $4.75 million and has sold for $4.35 million, according to Mr. Gordon, who spoke to The Observer on Friday. He declined to tell us who the buyers were.
–After three years and a $3 million price cut, real estate maven Elizabeth Rad's Tribeca loft has sold for $6.85 million. The 11th-floor, five-bedroom unit at 166 Duane Street is in good condition, but the decor might need an update, according to Sotheby's broker Tom Doyle. It was originally listed by Corcoran in 2007 for $9.95 million, but Mr. Doyle took over in May and dropped the price to $7.49 million, after which it swiftly went into contract.
Ms. Rad's difficulties were perhaps surprising given her credentials. She was the president of investment firm Corrado Properties and has gone on to cultivate the Sorrel River Ranch and Spa and fine restaurant Le Relais de Venise L'Entrecote. The Observer placed calls to her various locales, but none were returned. The buyer is Palmyra LLC.
–Celebrity stylist Phillip Bloch has finally unloaded his West Village pad, with its notoriously funky layout. Perhaps the most striking feature of the three-bedroom, one-bathroom unit is that the entrance to the kitchen is in the bedroom (convenient for those midnight cravings). But, critics, hang your heads because the place has gone for $1.04 million, which is not so bad considering it was most recently listed for $1.125 million. The buyer is Antoine Roy, who could be a French-Canadian military hero, a 245-pound wrestler or a VP at an asset management company. You decide.