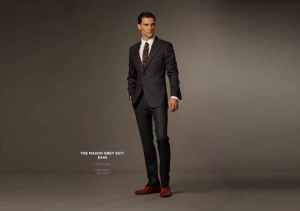 New York-based Gilt Groupe is by now a well-established network of group-buying sites for buyers with six-figure incomes, and it's expanding aggressively.
Gilt just launched a local deal "Gilt City" site for Tokyo, its first site for a city outside the U.S., and now it plans to unveil a new category: full-price retail for men.
Today Gilt Groupe announced it's hired Chris Ventry, a financial services veteran who also served as COO of two apparel brands, as Category Director and Head of Business Operations for the new full-price men's site, which has yet to be named.
Also coming on board is tastemaker Josh Peskowitz, who will serve as Style Director of the company's new full-price men's retail business. Peskowitz most recently served as Style Editor for Esquire.com. His resume includes fashion editor at Men.Style.com, the former online home of GQ and Details, and Vibe, Cargo, Stuff, and The Fader.
"With Chris' depth of understanding and expertise in retail management and operations, and Josh's breadth of knowledge and keen eye for style, we're building a truly best-in-class team, and the new men's full-price retail site will elevate the bar," John Auerbach, President of Gilt Groupe's new full-price men's retail site, said in a press release.
Gilt Groupe launched GILT MAN in October 2009, another members-only deal site. But the new site won't feature discounts. It will launch in summer 2011 with a carefully-edited selection of men's apparel, accessories, athletic gear and gadgets.
Gilt's announcement comes just as New York-based Thrillist launches a curated deals list for men, although where Gilt is targeting gentlemen who don't mind paying full price, Thrillist is aiming for bros with an eye on their wallets.
ajeffries [at] observer.com | @adrjeffries