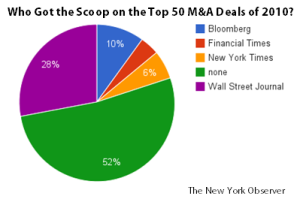 Last week, I wrote about the DealBook franchise at The New York Times, which in nine years has expanded from a simple morning email newsletter to an entire arm of the newspaper's business section. That growth comes in a certain context: for decades The Wall Street Journal has dominated American business coverage, but ever since Rupert Murdoch purchased the broadsheet in 2007, he has been shifting resources into making it more of a general interest daily.
"A lot of the core business staff at The Journal hates what's happened and refuses to go down without a fight; they still win lots of scoops," I wrote.
After the story ran, a Journal staffer emailed me a spreadsheet that puts some numbers behind that idea. If accurate, they make a convincing case that despite Mr. Murdoch's influences, the Journal is still No. 1 on the mergers-and-acquisitions beat. They also show that the paper is annoyed that because of DealBook's high profile, it needs to make an extra effort to remind people it's not limping along.
The staffer's spreadsheet lists the 50 largest mergers-and-acquisitions deals this year, ranging in size from $2.31 billion to $22.33 billion. They're tagged by target, acquirer, industry, value, and—most important to media-watchers—who got the scoop. Here's a pie chart (top right; click to enlarge), and a breakdown by publication:
Bloomberg: five scoops (E.ON US LLC, Sybase Inc, Millipore Corp, Isilon Systems Inc, Nicor Inc)

Financial Times & DealReporter: two scoops (Interactive Data Corp, Del Monte Foods Co)

New York Times: three scoops (CommScope Inc, Continental Airlines Inc, J Crew Group Inc)

Wall Street Journal: 14 scoops (Genzyme Corp, American Life Insurance Co – ALICO, Qwest Communications International Inc, Smith International Inc, Coca-Cola Enterprises Inc (North American Operations), East Resources Inc, Pactiv Corp (Bid No 2), OSI Pharmaceuticals Inc, Alberto-Culver Co, NBTY Inc, Talecris Biotherapeutics Holdings Corp, Burger King Holdings Inc, Baldor Electric Co, 3PAR Inc (Bid No 2), Oil & Gas Assets (Permian Basin of West Texas and New Mexico)

No scoop: 26 times (Enterprise GP Holdings LP, Bucyrus International Inc, Allegheny Energy Inc, Airgas Inc, McAfee Inc, Oil & Gas assets (Canada, US, Egypt), Tenet Healthcare Corp, NSTAR, Valeant Pharmaceuticals International, Southern Copper Corp (20%), Devon Energy Corp (Oil and gas assets in the deepwater Gulf of Mexico, Brazil.), Hewitt Associates Inc, Terra Industries Inc (Bid No 2), Atlas Energy Inc, Mariner Energy Inc, EXCO Resources Inc (70.85%), Kraft Foods Inc (Frozen pizza business in the US and Canada), Abraxis BioScience Inc, King Pharmaceuticals Inc, AmeriCredit Corp, Oil & Gas Assets (The Appalachian natural gas and oil exploration and production business, US), MultiPlan Inc, Dresser Inc, US, ev3 Inc, PNC Global Investment Servicing)
I'd normally be hesitant to simply post something sent to me by a single source with skin in the game. But this is a fascinating set of data, one I haven't seen anywhere else, and I've reached out to representatives of the other publications to see if they have additions, corrections or comments. If they do, I'll add them below. (I expect there'll be a lot of disagreement on that "no scoop" category, and, in cases where rivals broke different parts of the same story, which one got the tally in the Journal's spreadsheet.) For now, it's just one side of the argument's numerical food for thought.
UPDATE Dec. 17: I've made a correction above, to reflect that DealReporter–a subsidiary of the Financial Times but not FT itself–had the Del Monte scoop. DealReporter also says it got the scoop on Nicor, plus some other M&A stories that didn't make the WSJ list.
UPDATE Dec. 17, 5:32 p.m.: So far, I've heard nothing on the record from the Times, FT or Bloomberg. A Reuters spokeswoman emails Joe Pompeo of Yahoo News this list of scoops:
Compellent Technologies up for sale ($1bln); Bain had struck deal to buy Styron ($1.6bln deal); General Growth was to accept Brookfield-led deal, over Simon Property $30bln bid; Value of the $35.5bln AIA deal; Ivanhoe Mines (market cap $13bln) is likely to sell itself in a two-step process; Miner Drummond's put its Colombian operations up for sale ($6-8bln); Fidelity National $15bln LBO collapsing; France's Safran was near a deal to buy L-1 Identity ($1bln)