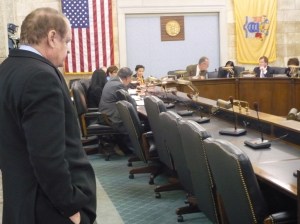 WEST ORANGE – A guest roastmaster at a charity roast of Hudson County Executive Tom DeGise in Jersey City recently, state Sen. Dick Codey (D-Roseland) opened his set by picking on maybe the only Republican in the room, Bret Schundler.
From the podium, the jovial Codey told the former Jersey City mayor and the only high level firing of first-year Republican governor, Chris Christie: "Turn around. Let me see those tracks across your back."
Even as he enters 2011's all-important legislative redistricting process with a target on his own back and few allies in power positions, Codey can't help but keep things light.
That's just his way, but it doesn't mean he is short on concern about himself, his party, and the state of New Jersey politics.
As a former governor, acting governor, and state Senate president, Codey has a unique perspective on the current situation in Trenton, one in which he is practically a bystander.
Working as Senate president under former Gov. Jon Corzine is almost incomparable to the current situation state Sen. Pres. Steve Sweeney (D-West Deptford) endures under Gov. Chris Christie, he said.
Still, though Codey and Corzine came from the same party, common political bonds could not heal an otherwise rocky relation.
Corzine lacked political prowess, Codey said, echoing a well-recited refrain in Democratic circles. Corzine proved this even as he was exiting office by coming to an agreement over Cooper Medical School of Rowan University in Camden with South Jersey powerbroker George Norcross, chairman of the board at Cooper – in the middle of the night.
"(Corzine) didn't have any street savvy as a politician," he said, and even though Codey never disapproved of the new four-year med school in the south on its merits, he disliked the manner in which it was executed.
"They were handing me papers at 1:30 in the morning," he said. "They were hiding it."
Compare that to Christie, the gunslinging Republican, who is facing off with Sweeney, a Norcross-backed man from the south who out-dueled Codey for the leadership seat last year.
"It's a really different dynamic," Codey said of Christie/Sweeney.
He recognizes Christie's "in-your-face" bravado and, as a former governor, is not quick to criticize.
"Every governor has their own style," he said. "It's not my style. He's got to do whatever he thinks is right… I think for the times, if it's ever going to work, it works now.
"(Christie) seems to be comfortable (in the confrontational role)," Codey said.
Sometimes it does make it harder to operate in the legislature, Codey admits, as he quickly changes hats. Competing for space in shrinking news columns with a media-friendly governor is not easy.
In 2001, Codey was atop the decision-making pyramid for the Democrats' state redistricting team.
He was one of the architects of the narrative that carried the day, that minority voters should not be disenfranchised by penning in their districts and limiting their representation.
"It took a lot of time to develop that narrative," he said. "It took a lot of time to sell that narrative."
Like some other redistricting leaders from a decade ago, Codey is not being brought to the table this year. Neither is U.S. Sen. Bob Menendez ally Donald Scarinci, who just wrote a book on the subject.
Codey said some county committee people asked him to serve on the redistricting board – with no authority to put him there – but at the end of the day, Codey backed Assembly Speaker Sheila Oliver (D-East Orange) as the Essex representative.
He thinks Republicans have already begun building their narrative this year. The story goes like this: Since Republicans produce the majority of votes statewide, statistically, they should somehow have a map that guarantees them a majority in the legislative chambers.
Codey said the logic is flawed, in part because Democratic bosses allow little or no opposition to themselves or their candidates.
"Like Joe D's opponent this year," he said, referencing Essex County Executive Joe DiVincenzo, a Christie-brand Democrat and powerbroker in Codey's backyard. "The primary is the whole ballgame."
Republicans have more votes on file because safe Democratic areas don't bring out the vote, especially in urban districts, reducing Democratic numbers overall.
And, he said, the party does not allow for healthy competition like Republicans do.
With all that, handing a Republican legislature over to an aggressive Republican governor is not what the Democrats want, Codey among them.
But as the Democrats prepare attempts to stem the GOP tide in state legislative races next year, Codey isn't trumpeting a resounding call for party unity.
"They gotta get back to their bases," he said of the state's Democrats. "It's not going to be easy."
For his part, he's making phone calls, sending hand-written notes, and trying to keep himself as relevant and as likeable as he has always been.
At the same time, he has heard tell of a certain target on his back, both from Democrats and Republicans in the redistricting war rooms.
While the rumor and conjecture twirl, Codey's not sitting still.
"There's no grass growing under my feet," he said. "I am prepared for every scenario. Bring it on."
His pre-positioning is that he has had Orange and West Orange in his district for 38 years, and removing him from his base would severely disenfranchise voters. Of course, none of that matters because he's not going to be in the room to make the argument.
If there is a movement to unseat Codey, especially from the Democrats, he sees it – not as simply the mechanisms of politics in motion – but as a sign of sincere disrespect: "Just because I can't be controlled."
For that exact reason, most likely, he's no stranger to rogue candidacy; he ran against the county's Democratic machine in 1993 and 2001, winning both times.
In 2011, any post-redistricting challengers will find Codey waiting with a $2 million warchest, minimum.
And whatever the outcome of that redistricting battle, Codey refuses to believe that the state has tilted Republican.
"New Jersey is a blue state and it's not changing," Codey said. "There are anomalies," and he counts Christie as one such anomaly.
Whatever Christie is, at least he provides the Republicans with leadership from a high state seat.
The reigning Democratic powers – Norcross, DiVincenzo, and Essex political kingmaker Steve Adubado, as Codey counts them – aren't even elected to state seats. In fact, all except DiVincenzo are bereft of public office entirely.
"Each with their own selfish interests, in terms of power," Codey said, and all bending to catch rays from Christie's sun.
This is why Codey doesn't see the Democrats having any chance at party unity. Kumbaya? No dice.
"Not with the nexus there between the three of them and the governor," he said. "And I can't be mad at the governor for that."
For others who are looking Christie's way from the Democratic side of the aisle, like Newark Mayor Cory Booker, Codey finds no fault.
"There's a different mindset with Cory Booker," he said, one that isn't hellbent on deepening personal power and increasing patronage positions.
What about Codey's future, in 2011 and beyond?
Not another run for Senate president, he said: "I've moved on."
Maybe a run at governor, though: "I definitely would look at it."
But he's completely non-committal on any of these.
"I can't tell you I would run for governor, or U.S. Congress, or county executive, or freeholder," or whatever, he said.
But he can say that he intends to be relevant and likable, which even the casual observer of Codey's long career in New Jersey politics has probably come to expect by now.