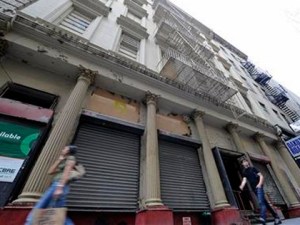 A number of new documents released by the Bloomberg administration reveal the length that the mayor's office went to in order to help Imam Feisal Abdul Rauf, his wife Daisy Khan and their partner Sharif el-Gamal navigate the municipal bureaucracy in order to get approval for Park51, the so-called "Ground Zero Mosque" that the couple wanted to build.
In one representative letter, Nazli Parvizi, the head of the the mayor's community affairs unit, advises Rauf not to go back to Community Board 1 for approval for the project after the Landmarks Preservation Commission gave the project the green light.
"Hi Feisal," the letter begins. "I know that [Community Board 1 President] Julie [Menin] is incredibly anxious to get the letter and she was really upset to hear that such a landmarking issue exists and was not even mentioned.
"My recommendation is given you mau [sic] have to go up to the community board again to discuss this issue, send the letter to julie asap and keep her on your good side. Tommorow or monday am at the latest.
"I would at this point keep the issues separate. What the letter will do I hope is get the media attention off everyone's backs and give you guys time to regroup on your strategy, as discussed."
Another email reveals that Immigrant Affairs Commissioner Fatima Shama expedited a temporary public assembly permit for the group to conduct prayers in January at Park 51
In another letter, Shama congratulated the group after the project was approved by CB1's finance committee, writing,
"Sharif, Daisy, Iman Faisal,
Again–congratulations!!! This is very exciting for all of you and our community at large!"
And the team behind Park51 was grateful to the mayor's team for all of their help.
Wrote el-Gamal to his cohorts,
"Just spoke to Commissioner Nazli Parvizi.She will call Julie Mennon [sic] to thank them for passing the resolution and ask how she can assist. She knows the folks at the tribute center and will put us in touch with them as well."
The mayor's office says that the emails do not reveal anything unusual, and point out that it is the duty of the mayor's community affairs office to help community organizations figure their way around the city's bureaucracy.
"The Community Affairs Unit exists to help groups navigate City government, and from helping prepare for a Papal visit to expediting approval of a Sukkah in a midtown Manhattan park, this kind of assistance is typical of its regular work," said Stu Loeser, Bloomberg's press secretary.
The documents were provided after two conservative legal groups, Judicial Watch and American Center for Law and Justice, sued for their release.
UPDATE:
The leadership of Park51 just sent along the following statement:
"Park51 and its leaders are extremely appreciative to Mayor Bloomberg and his administration for the help and support they have provided to this important project to build an Islamic Community Center which will serve all the residents of Lower Manhattan . We are thankful that the Bloomberg administration continues to play a critical role in facilitating valuable economic and community development projects like Park51 in neighborhoods throughout the five boroughs, and in particular, in areas like Lower Manhattan where there is such a great need."