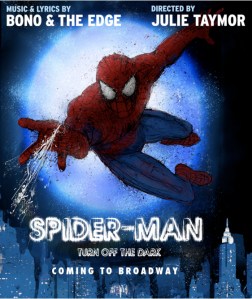 Last night another performer suffered an injury during the much-anticipated, long-delayed musical Spider-Man: Turn Off The Dark, the show's fourth victim since starting previews. Yet again, a web-slinging stunt man slipped out of the harness and fell to the wooden stage. The performance stopped, the directors called ambulances, and the attendees shuffled out of the Foxwoods Theatre.
With so much disaster afflicting the mondo-budget adaptation of the beloved superhero comic, it's time to face facts: when is thing going to be scrapped?
Eight years and $65 million into the making, Spider-Man: Turn Off The Dark has taken its loftiest of expectations — Bono! The Edge! Julie Taymor! — and run them into the ground. It's now known primarily for its failures, its faulty, potentially fatal stage contraptions. And with each new injury — how can there not be another — comes a maelstrom of bad press. We'd be surprised if the thing makes it to its much-pushed-back start time of February 1. It's not a stretch to say it'd be irresponsible if it does. It may be Broadway's biggest musical of all time, but maybe it should never happen.
More than anything, this production is starting to feel like the Macbeth, the most cursed of Shakespeare plays, so dangerous that those involved call it simply "The Scottish Play" for fear of some sort of retribution. Could Turn Off The Dark be in need of its own euphemistic nickname? Let's go with "The Webbish Play." Hey, maybe it will stave off more injuries.
nfreeman at observer.com |@nfreeman1234
Click for Scandal Report: And Then The Model At Diddy's Party Burst Into Flames